Summary:
The SDT incentive allocations have remained untouched over the past two months, and an update is overdue with the launch of new strategies.
This proposal provides the rationale and specifications for updating rewards, not their implementation. If approved, this proposal will be marked as approved and updated here to reflect when implemented. Following this, we will share the changes via our social media channels.
In addition to the strategies where users deposit one asset to earn a yield, the DAO has also been incentivising:
Users that lock CRV tokens to boost Stake DAO's yield on Curve (this is the Perpetual Strategy).
Liquidity providers on Ethereum (in Uniswap and Sushiswap) help users acquire SDT.
The table below outlines the current state of SDT rewards. All rewards current and proposed are based on Ethereum blocks.
Current rewards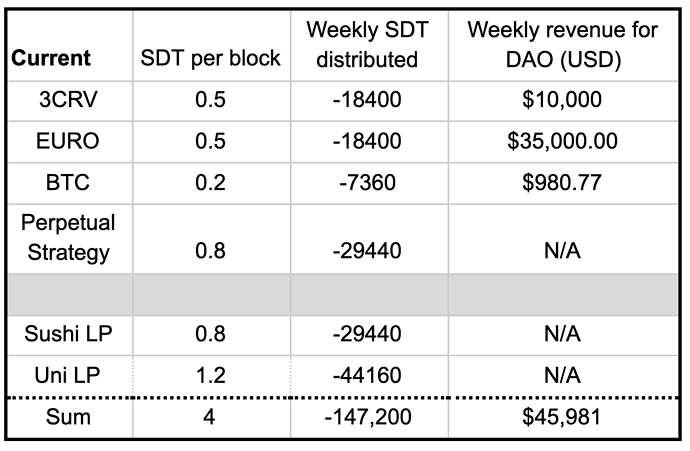 Three conclusions from the current reward structure:
It is obvious that the Euro Strategy brings disproportionate revenue to the DAO. Therefore, we should incentivise it more as against other strategies.

50% of the SDT rewards are allocated to Uniswap and Sushiswap LPs on Ethereum, which could be further optimised.

Significant rewards per block are allocated to the Perpetual Strategy compared to the number of CRV locked in this strategy. Users may have restrained from locking more CRV due to the illiquidity of this Perpetual Strategy. This will be the subject of a future upgrade proposal.
Motivation:
The purpose of these SDT incentives has always been twofold: to distribute the token to active Stake DAO platform users and incentivise the flow of capital towards the most profitable strategies.
Specification:
Proposed new rewards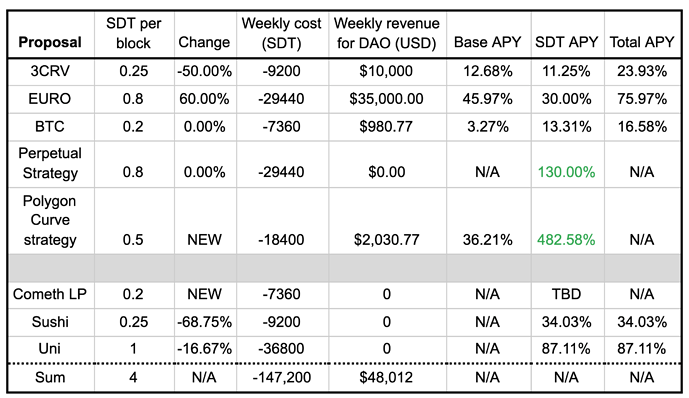 Strategies (62.5%)
Increase the Euro strategy: 0.50 → 0.80 SDT (+60%)
Decrease the 3CRV strategy: 0.50 → 0.25 SDT (-50%)
Maintain the BTC strategy: 0.20 → 0.20 SDT (+0%)
Maintain the Perpetual Strategy*: 0.80 → 0.80 SDT (+0%)
Introduce Polygon Curve strategy: 0.00 → 0.50 SDT
Liquidity (37.5%)
Introduce ETH/SDT on Comethswap: 0.00 → 0.20 SDT
Decrease significantly Sushi ETH/SDT: 0.80 → 0.25 SDT (-68.7%)
Decrease slightly Uniswap ETH/SDT: 1.20 → 1.00 SDT (-16.6%)
Introduction of SDT rewards for Curve on Polygon, and ETH/SDT LP on Comethswap
There is significant activity on Polygon, i.e. new opportunities for Stake DAO! It is particularly well suited to new users, who do not want to spend a lot on transaction fees.
The AAVE + Curve strategy on Polygon is highly profitable for users and the DAO. Therefore, by introducing new rewards, we can incentivise more users to deposit their assets in Stake DAO on Polygon.
Furthermore, the proposal also introduces rewards on the automated market maker Comethswap (same user experience as Uniswap) for the ETH/SDT pair to allow new users to purchase SDT directly from Polygon.
Decrease Sushiswap rewards
Sushiswap rewards were introduced to help liquidity to expand beyond Uniswap. However, it has been clear from on-chain analysis that many new users go directly to Uniswap, and therefore this segregation of liquidity does not help the DAO or users.
It would be more interesting for the DAO to re-allocate these liquidity rewards from Ethereum to Polygon, where new users can access the token at a much lower cost.
Consequently, it is proposed to significantly reduce the rewards for the Sushiswap LP and use that to incentivise the strategy on Polygon and liquidity on Comethswap (on Polygon).
For:
Supporting a cross-chain future.
Rewarding LPs that generate higher revenue for the DAO on a relative basis.
Against:
LPs in strategies and pools that don't currently generate much value for the DAO.
Voting
On-chain voting on whether this proposal should be implemented as specified above will occur on our signal here.
The DAO will have until ~1 PM UTC 03/05/2021 (block 12,361,372) to unstake xSDT from the Palace if they wish to partake in governance.
The vote will run for 24 hours from 1 PM UTC 03/05/2021 until 1 PM UTC 04/05/2021.